************************

[ezcol_1half]
Below are comments from our adoptive families and to the right are pictures they've sent of their Wolf Creek newfs.  CUTE!!!
We LOVED getting the birthday card from Euphrates & Niles!  Thank you for the birthday wishes,… We had a party for her!
I often check your website to get updates on the new puppies & dream of having another.
Puddings is a giant, lovable, sweeter than sweet, nutball that has no concept of personal space & adores children!  She thinks she is a lap dog & I love it when she sits or lies across my lap!  She goes just about everywhere with me & gets so excited when we drive through the gates & onto the campus of J's school.  The sound of children laughing & playing on the playground makes her sooo happy!  If I do not go through the pick-up line, I will park & she will walk up with me & all of the children go nuts to pet & hug her!  Everyone knows Puddings at J's school & they love her!
We really can not thank you enough for bringing this adorable, crazy lady into our lives!  We all love her more than we ever thought was possible!
Thank you, thank you, thank you!
Warmest Regards & Forever Grateful,
**********************************
My husband and I were just saying the other night that we need to email you and let you know how lucking we are to have Darlington ("Jane"). She is truly the kindest animal we have ever known. She is so gentle and loving.
Thanks again for the wonderful addition to our family.
P.S. Darington is looking forward to winter coming, she just loves the snow.
M.
*************************************
Just would like to say we were all very pleased with everything.  Not knowing what to expect when we went, but we can say it all went very smoothly.  It was nice for us to be able to bring our "old" dog to see how he would get on with the parents/pups. That was a bonus for us to be able to drive to your place and do that.
Our phone call was returned in due time.  Our visit was well planned, and you were even good enough to meet us a bit earlier than planned.   It is also nice to be able to communicate and have a follow up.   I'm sure you like to know how your babies are doing!   I know I would like to know if I was you!   And thanks for sending us some pictures of the first days of her life.
It was nice to see that the dogs were all well looked after, to meet you in your lovely surroundings, and to get our baby without any problems.  Wish we had a creek going through our backyard!…
Our little girl is so sweet and adorable.  Great temperament.  She is a great addition to the family.  Hope she grows up to be like her mum, Euphrates – who seemed to have been a very good mother, and like her dad, Niles – who looks majestic.
And yes! You're right: she doesn't drool… A bonus too!…
I would certainly recommend you as a breeder.
B.P.
**********************************************
We still can't remember life before this Big Doggie.
Can't take a walk without somebody stopping for
a Newfie fix.  People slow down in their cars,
honk and even had French Tourists pull over
to have their picture taken with Judey Boy.
You'd think we were the only Newfie in town.
He just absolutely loves everybody & is personality plus.
Still can't thank you enough.
J.

****************************************
Thank you for our new "little" girl, Darlington (formally Jane).  She is growing quickly last check about 4 days ago she was 20 lbs.  She is loving the snow and I think she even likes the cold weather we have been having. We however would prefer something warmer.  She and the kids have bonded well.  She loves to play and romp with them.  We are looking forward to this summer when we get to take her camping with us.
All of Darlington's pics are on my husband computer.  I will have him put some together and send them tonight. Thank you again for our puppy.
M.L.
*****************************************
I would just like to say that the entire process from beginning to end was Fantastic!  You went above and beyond for my family and I.  We will be forever grateful for finding such wonderful people to be able to get our Newfoundland puppy from.  She is wonderful!  We are very satisfied with her, we just think she is perfect!  I was also very pleased when I took her to the Veterinarian and they all bragged about how beautiful she is, not to mention being a healthy pup!
I felt comfortable talking with you and we can not thank you enough for what you have done for us!  You are obviously wonderful people who love the breed as much as we do!  I would reccommend anyone looking to talk with you about acquiring a baby from you!
I just think she is a beautiful specimen of the breed, her head is big and blocky, she has great features, she has that perfect Newfoundland Sweet trait, such a lover.  You can already tell she will be one fine girl when she grows up!  I am even more pleased than what I had ever thought that I would be!
Thank you for everything, and you have my permission to take any comments and post them!
A.C.
**************************************


We are so pleased with Nigel.  He is such a great addition to our family.
… I felt that you were very responsive and professional to all correspondance.  I felt comfortable asking questions and enjoyed conversations about the puppies and parents.  Thank you for a wonderful dog.  I am looking forward to his progress and growth.  He has settled in nicely.
Sincerely,
B.B.
*******************************************

…IT'S JUST ABOUT A FULL TIME JOB TAKING CARE
OF——I SHOULD SAY PLAYING WITH AND WATCHING THE ANTICS OF THE … DOG.  I ENJOY EVERY MINUTE OF IT. WHEN HE COMES ANYWHERE NEAR ME, WHICH IS MOST OF THE TIME, I CAN'T KEEP FROM HUGGING HIM TIGHT AND TELLING HIM HOW MUCH I LOVE HIM. TALK ABOUT INTELLIGENCE—I NEVER TAUGHT HIM TO RETRIEVE ANYTHING, BUT HE BRINGS BACK THIS SQUEAKY ROUND KNOBLY BALL-LIKE THING  AFTER I THROW  IT AND PUTS IT RIGHT IN MY HAND. IF I DROP IT , HE PICKS IT UP FOR ME. HE KNOWS RIGHT FROM WRONG. IF HE MAKES A MISTAKE, I MAKE ONE GUTTERAL SOUND AND HE DOESN'T DO IT AGAIN.. IT'S ALMOST HUMAN THE WAY HE THINKS.. WHAT HAVE WE GOT HERE?   I WONDER .  WISH EVERYBODY COULD EXPERIENCE WHAT I'VE JUST TALKED ABOUT.
HAPPY DAY
SINCERELY, MW
********************************************
I hope this doesn't get tiresome, but having _____ in my life makes it full. He's well into growing his adult fur along his back, but he still has his incredibly soft fur on his head. For now, he sleeps in an armchair in the
bedroom so he can watch us (but he's about to outgrow it–hope we don't a psychological trauma there). Every day when I come home, he romps up to the front door so he can chew on my ear in greeting. He's past the yip phase, and is developing his adult bark. And not one drop of slobber has he flung so far!!   Even the whole neighborhood loves him.
Thank You Thank You Thank You.
M
*******************************************
M and I cannot let the year end without telling you how much happiness Linus has already brought into our lives. He is growing like a weed. At the second visit to the vet, she exclaimed that he had more doubled in weight in only five weeks and is in superb health. He instantly decided to make the vet his new best friend,
from which she concluded "No socialization problems here."…
He went thru his first real rain storm like a champ. Completely oblivious to thunder and lightning. But he loves rain! He lay out on the brick patio staring up into the cold water coming down on his head, loving
every minute of it. And then he made his great discovery–when rain comes, MUD magically appears!! How cool is that? …
Oddly, because Linus is so totally open in
displays of affection, he has forced Zelda (older dog – editor) to do likewise so she won't get shut out. (We–meaning me–are making special efforts not to show too much favoritism.)…
The best summation is something my sister told me when I took out to lunch two weeks ago. She said this was the first time in two years she's seen me happy. I hope that tells you what I mean with this message.
MP
**************************************************
[
Jazer, below is a therapy dog
]
Just wanted to say a quick hello.  Jazer is almost 2 years old now and I don't think we could be any better matched.  He is always putting smiles on every face that sees him.  He prances around like a prince everywhere we go and loves everyone and everything.  I could never have asked for a better companion.  He is definitely one of a kind, an awesome friend, who seems to stand true to everything we have read about the Newf temperament.
I am truly grateful for this wonderful gift of light and life you have given me!  He has taught me quite a lot.
Thank you so much,
J.
[/ezcol_1half] [ezcol_1half_end]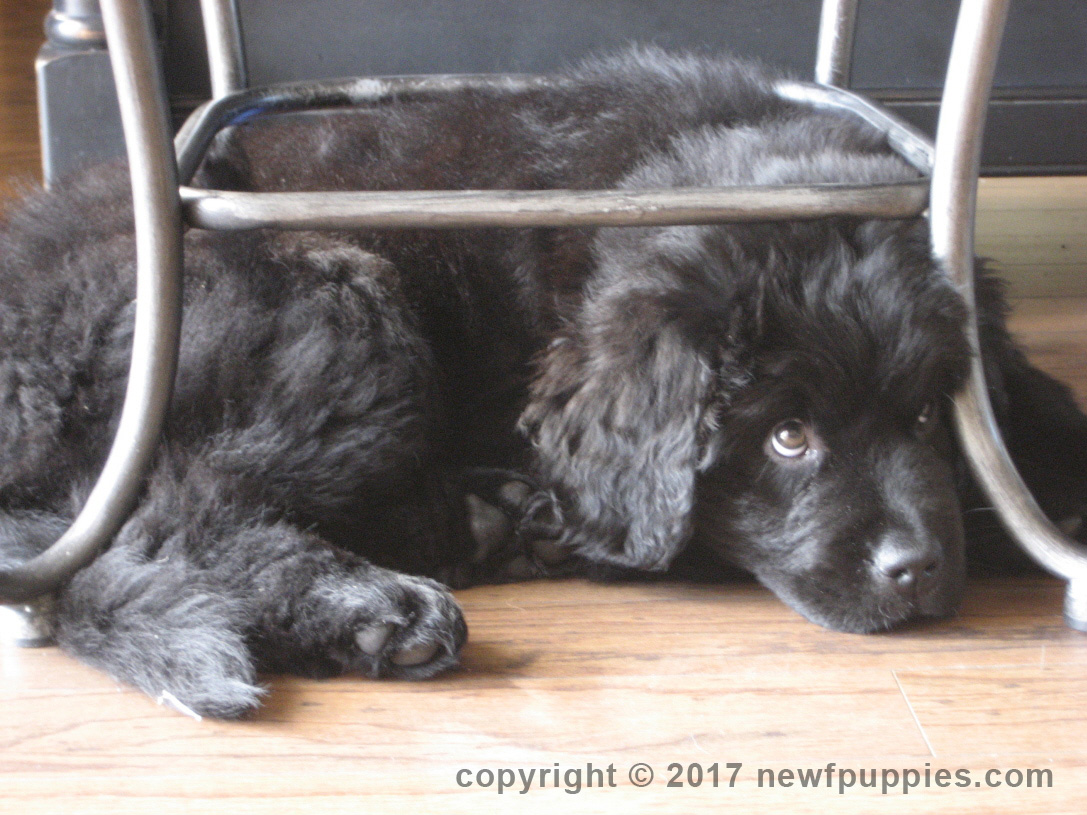 [/ezcol_1half_end]