12/9/2013 – Comet is now about 3 months old and having a fun day in the snow with her new family.
11/13/2013 – We recently had a small litter of two puppies. They are getting pretty close to being ready to go home with their new families!
11/17/12 – Mackenzie did not take at her first breeding so she will be bred in addition to Euphrates and Splash Jordan in late February, 2013.

Above are a couple of shots of our sweet Mackenzie
06/18/12 – Here's the first Class of 2012 ready to go home. We will miss them!
06/07/12 – Here are some photos taken of Jordan's last puppies at 5 weeks old. They were all pretty nervous about being models but did their best.
This is Maria, a black female:
This is Tia, a black female:
Below is Yogi, a brown male:
And here is Blackmail who is a … well, a black male:
04/27/12 – Splash Jordan has whelped a litter of 4 plump puppies. There are two boys and two girls. New owners make their choice of a puppy in the order reservations are purchased. (We do reserve the privilege of a Breeder's Choice from any litter.) Jordan's pups are registered with the UKC and Euphrates' pups are registered with AKC. Niles Winston is double registered. We plan to breed Mackenzie this summer and her pups will also be AKC. Niles is the stud for all three. A polygamist, I know.

Splash Jordan's new litter born April, 2012
Below is Halle (born on Halloween) at 8 weeks & ready to go home to her family.

11/13/11 – Halle is a versatile nurser.

Halle Hangin' Out With Mom

Halle and Jordan – Sleepy Heads
06/29/11 – Truffle is shown below at eight weeks old and ready to go to her new family.
06/05/11 – Truffle will be going to her new family in about two weeks. Here are some pictures of her at six weeks old.
06/02/11 – Here is a picture of Splash Jordan's baby, Truffle, at four weeks old.
Splash Jordan litter below.

Splash Jordan litter at six weeks old below:

Below at four weeks old: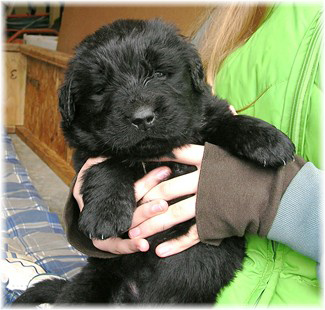 A Euphrates Litter Below
Euphrates whelped these 5 squirmy black puppies. Two were males and three were females. They are all settled into their new homes.
Below are a some individual photos of each pup.
At 6 Weeks Old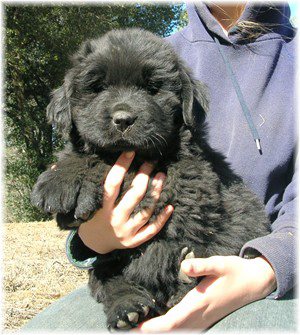 At 5 Weeks Old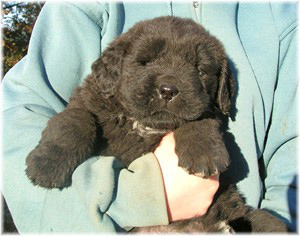 Euphrates' litter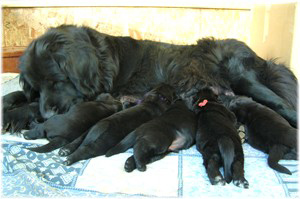 Euphrates, our first dam – the sweetest newf girl in the whole wide world – ever!!
A Wold Creek Puppy